Welcome to the Pollard Farms, LLC
Upcoming Sales:
March 17, 2018
19th Annual Bull Sale
News:
Pollard Farms is coming to Denver. Stop by and see us in the Yards and on the Hill!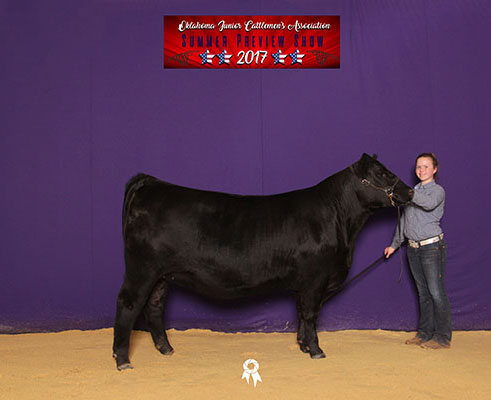 My Angus herd started about 22 years ago with the purchase of several bred heifers and yearlings. There are over 350 Angus cows at the ranch. Through natural production and an extensive donor and embryo transplant program, there are over 550 calves born annually. Our production sale is held each September and our bull sale is held each spring. Approximately 200 Angus Bulls are sold yearly either through our sale or private treaty.
Barry was raised in Hennessey, Oklahoma where his father taught vocational agriculture and his mother was a school teacher. After attending Oklahoma State University and then Oklahoma University and became a Board Certified Neurosurgeon. I returned home and opened a medical practice in Enid, Oklahoma in 1982.
We have 5 children, and our family continues to grow, we now have 7 grandchildren. Our children showed livestock in 4-H and FFA and that tradition has been carried on by our oldest grandchild, Jelani who attended her first National Jr. Angus Show this year and showed three Angus heifers.
We purchased our first John Deere dealership in 1984 in Kingfisher, Oklahoma. We currently own 10 dealerships in Oklahoma and 9 in Iowa. Barry employs over 550 men and women devoted to agriculture.
We encourage you to come and visit us at the ranch and take a look at our offerings. Our mission remains to produce great overall performance Registered Angus Cattle.