Should you have any questions or wish to speak with a representative of Pollard Farms please feel free to drop us an e-mail or give us a call. There is also a feedback form at the bottom of this page that can be used to send in questions or comments.
Contact us via mail:
Billing Office Address:
Pollard Farms, LLC
102 South Van Buren
Enid, OK 73703
Ranch Office Address:
Pollard Farms, LLC
P.O. Box 176
Waukomis, OK 73773
Barry & Roxanne Pollard
barry@pollardfarms.com
Showbarn Office:
Lacey Taylor - Farm Office Manager
Office: 580-758-1464
Cell: 580-747-8021
Fax: 580-758-1481
laceyt@pollardfarms.com
Randy White
Sale Cattle and Show Cattle Prospects
205-706-5955
Dinah Johnston
Sale Cattle and Show Cattle Prospects
540-569-0717
dinahj@pollardfarms.com
Keenen Pendley
Cow Herd
405-880-1114
Jose Herrera
Cow Herd
Gerardo Vasquez - Farm
Cow Herd
Visitors are always welcome!
Ranch Location:
504 E. Wood Road
Waukomis, OK
Driving directions:
On the South end of Waukomis, on State Highway 81, Turn East on Wood Road for 1 1/4 miles.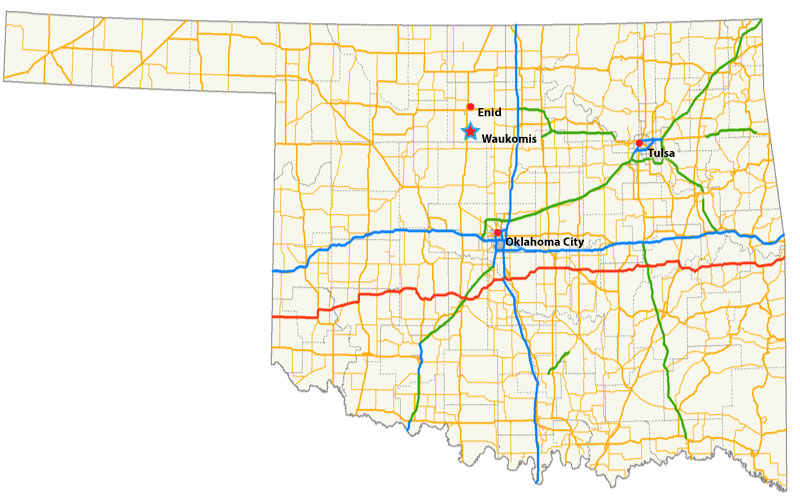 Nearby Airports:
| | |
| --- | --- |
| Woodring Air, Enid, Ok | 16.4 miles to Pollard Farms |
| Will Rogers World Airport | 79.9 miles to Pollard Farms |
| Tulsa International Airport | 133 miles to Pollard Farms |
Nearby Hotels:
| | | |
| --- | --- | --- |
| Holiday Inn Express & Suites | 4702 W Owen Garriot, Enid, OK | 580-237-7722 |
| Hampton Inn & Suites | 511 Demla Ct, Enid, OK | 580-234-4600 |
| Country Inn & Suites | 710 Mill Run Rd, Enid, OK | 580-540-4351 |
| Home Away Suites | 5103 W Owen K Garriott, Enid, OK | 580-234-5750 |
Crew
Linda McElroy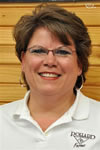 Linda has been with us since 1985. She serves as both my neurosurgery office manager and overall Pollard Farms office manager. Linda and her husband have three grown children.
Lacey Taylor

Lacey joined us in the fall of 2013. She is the secretary at Pollard Farms. With her experience in other cattle offices has helped with her ability to handle many different tasks at Pollard Farms. Lacey has three young children.
Randy White

In the fall of 2011 Randy joined the crew bringing with him a wealth of knowledge having spent his entire life working in the cattle business. He will be focusing on our sale cattle and show prospects. Randy has three grown children.
Dinah Johnston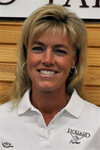 Dinah joined us in the fall of 2011. Her extensive experience will allow her to work alongside Randy with the sale cattle, with an emphasis on the show prospect development, as well as work to enhance the Junior Show Heifer Program at Pollard Farms. Dinah has two grown sons and four grandchildren.
Keenan Pendley

Joined us in the spring of 2016. With Keenan's extensive knowledge in the cattle reproduction and overall daily care, we are excited to have him at Pollard Farms. Keenan and his wife have one young child.
José Herrera

Jos&eacute has been with us since 1996. He cares for the cow herd and their calves like no one else could. Jose and his wife have four grown children and two grandchildren.
Gerardo Vasquez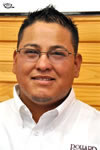 Gerardo joined us in 2010 and helps Jose with the cow herd and calves, while assisting Davey with the farm. He has one young daughter.