Should you have any questions or wish to speak with a representative of Pollard Farms please feel free to drop us an e-mail or give us a call. There is also a feedback form at the bottom of this page that can be used to send in questions or comments.
Contact us via mail:
Billing Office Address:
Pollard Farms, LLC
102 South Van Buren
Enid, OK 73703
Ranch Office Address:
Pollard Farms, LLC
P.O. Box 176
Waukomis, OK 73773
Barry & Roxanne Pollard
barry@pollardfarms.com
Linda McElroy
Town Office Manager
580-242-7030
linda@enidneurosurgery.com
Showbarn Office:



Lacey Taylor - Farm Office Manager
Office: 580-758-1464
Cell: 580-747-8021
Fax: 580-758-1481
laceyt@pollardfarms.com
Crew
Jeremy Leister - Ranch Manager
405-714-0557
Gerardo Vazquez - Farm
Coleton Conrady - Farm
Dusty Choate - Cow Herd
Colton Blanchard - Cow Herd
Weston Ireland- Cow Herd
Visitors are always welcome!
Ranch Location:
504 E. Wood Road
Waukomis, OK
Driving directions:
On the South end of Waukomis, on State Highway 81, Turn East on Wood Road for 1 1/4 miles.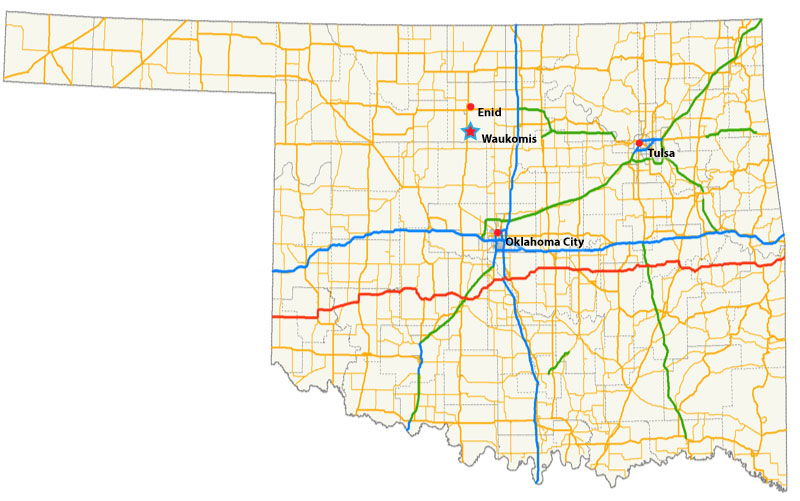 Nearby Airports:
| | |
| --- | --- |
| Woodring Air, Enid, Ok | 16.4 miles to Pollard Farms |
| Will Rogers World Airport | 79.9 miles to Pollard Farms |
| Tulsa International Airport | 133 miles to Pollard Farms |
Nearby Hotels:
| | | |
| --- | --- | --- |
| Holiday Inn Express & Suites | 4702 W Owen Garriot, Enid, OK | 580-237-7722 |
| Hampton Inn & Suites | 511 Demla Ct, Enid, OK | 580-234-4600 |
| Country Inn & Suites | 710 Mill Run Rd, Enid, OK | 580-540-4351 |
| Home Away Suites | 5103 W Owen K Garriott, Enid, OK | 580-234-5750 |